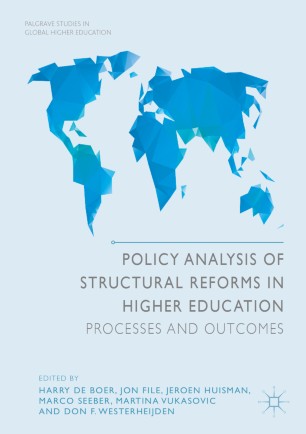 Structural reform in Europe
Not only in Norway, comprehensive reform is taking place in higher education. Researchers involved in the Re-structure project have been involved in a commissioned project by the European Commission, DG Education and Culture. The aim of the project was to provide practical recommendations relevant to policy makers in EU Member States on structural reforms in higher education. In specific, the project investigates a) the circumstances under which different structural reform policy options and instruments may best be used, as well as b) the design, communication, implementation and evaluation of different types of structural reform processes. As a spin-off of this project, the researchers involved published a book on eleven case studies, including Norway.
Boer, H. de., File, J., Huisman, J., Seeber, M., Vukasovic, M. & Westerheijden, D.F. (eds. 2017), Policy analysis of structural reforms in higher education: Processes and outcomes. Basingstoke: Palgrave.
Bologna in Europe and beyond
The Bologna process undoubtedly triggered policy change in most European countries, but also in countries in Asia, at first sight unlikely candidates for a European policy reform. Looking at the adoption of Bologna process elements in various countries – east and west – key factors are discovered that contribute to explaining why and to what extent countries engaged with the process. As such, the paper contributes both to the literature on Europeanisation and policy change and adoption.
Huisman, J. (2019), The Bologna process in European and post-Soviet higher education: institutional legacies and policy adoption, Innovation: The European Journal of Social Science Research 32(4), 465-480.
Polices for teaching excellence
Governments have paid considerable attention to research quality policies, but increasingly they explore policy options to improve the quality of teaching and learning. However, the concept of teaching excellence is unclear and lacks critical discussion. The paper analyses the initiatives developed in Germany in the context of the national competition for teaching excellence (Wettbewerb Exzellente Lehre).
The results of this study show that teaching excellence in Germany is characterised by a focus on the central leadership and its responsibility to create the conditions, through structural and cultural changes within higher education institutions to improve teaching quality.
Brockerhoff, L., Stensaker, B. & Huisman, J.(2014), Prescriptions and perceptions of teaching excellence: a study of the national Wettbewerb Exzellente Lehre' initiative in Germany, Quality in Higher Education 20(3), 235-254.